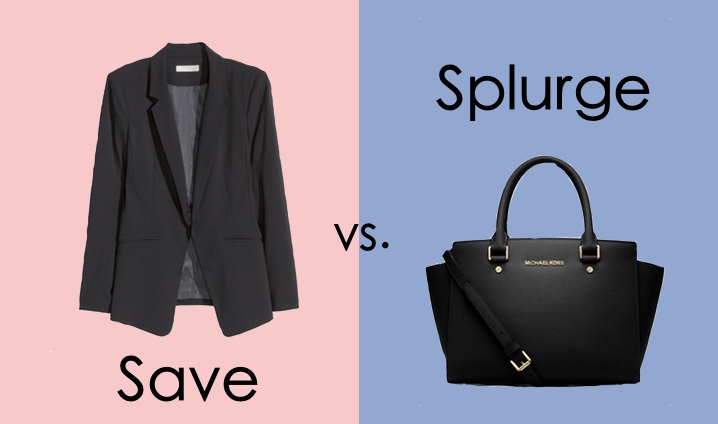 Most of us know the feeling of having Champaign taste and a box wine budget. Or sometimes you just can't justify spending $500+ on shoes when you're saving for a new car or a down payment. God forbid you end up having a Carrie Bradshaw aha moment when you realize you could literally be the woman who lived in her shoes.
Although, there are some things you really should invest your money in because they're in it for the long haul with you. Other things are worth saving on, especially when there are lookalikes for half the price.
Splurge
Generally you should splurge on classic and versatile pieces. They will never let you down and you can keep them in your wardrobe for years and years.
Classic jewelry: Pieces that never go out of style are very versatile and can be paired with various outfits. By splurging on your classics, you'll be able to hold onto them forever.
Handbags: A classic handbag will never let you down! It's worth investing in a quality leather bag that will go the distance for you.
Classic pumps: Shoes are one of those things where you can really tell the difference between a $50 pair and a $100 pair. For your classic pump, spend the extra money. You don't need to buy Loubs but make sure they're high quality. You'll wear them frequently and it's better to invest than replace every six months.
LBD: This is a staple that every woman needs. It's incredibly versatile and definitely worth finding the right one.
Save
It's safe to save on basics and trendy pieces. Trends don't have a long shelf life and you'll end up getting tired of them. In terms of basics, everyone makes them so there's plenty of options at various price points.
Tops and blouses: You can find plenty of tops and blouses at an affordable price. No need to shell out tons of money.
Sunglasses: Everyone loves a designer shade but so many stores offer stylish options that don't break the bank. Especially if you like to switch up your sunglass game frequently, it's worth it to save.
Blazers: Similar to tops and blouses, blazers can be found just about anywhere. And there are so many options under $100 (heck under $50).
Note: This rule doesn't apply if you are buying a full suit. If you're buying a complete professional suit, invest a little more.
The latest trend: Trends come and go – they're fun to play with and then they go to the back of your closet or get donated. Have fun with trends but don't break the bank on them.
Depends
Some things are on a case-by-case basis.
Denim: I do believe in investing in quality denim. Jeans are one of those unicorn things that are very hard to find, so if you find a pair that fits perfect and is $200, get it girl. But if you find a perfect pair for $40, get those too.
Shoes: Some shoes should be invested in and others you can save on. Those summer sandals are a save piece but classic black pumps are an invest item. Also consider that shoes are something you're rough on and you want to last, and quality usually delivers a more comfortable heel. With shoes, choose wisely and use your best judgment.
Speaking of, I have to share this find with you! We all love the Valentino Rockstud pumps, but I don't have $995 for shoes today. Fear not, Sole Society has a look alike pair for under $70. Ordering now…
XOXO