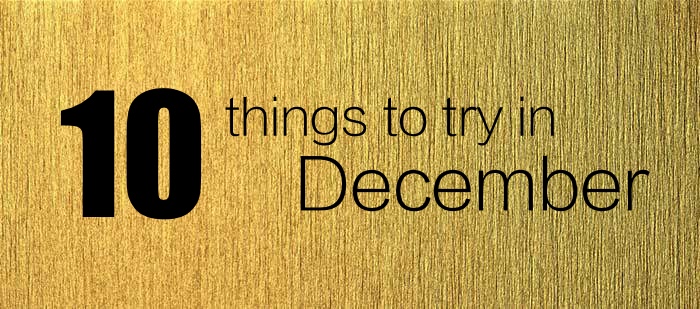 The holiday season is officially in full force! This is my absolute favorite time of the year. Yes, the warm summer months are great but to me, nothing beats the holiday spirit. So much joy and cheer to be shared. This is the time to surround yourself with love and family, spread kindness, and embrace the giving spirit.
To get in the holiday spirit, here's 10 Things to Try in December.
1. Cut your own Christmas tree. There's nothing quite like the experience of going out and finding your perfect tree, not to mention the fresh pine scent that fills your house.
2. Do some random acts of kindness (RACS). Pay for the next person in line at your coffee shop, leave sweet notes on your neighbors' porches, or bring home cooked goodies to the less fortunate.
3. Find some snow. Do you want to build a snowman? I DO.
4. Go Christmas light hunting. There are quite a few neighborhoods that are famous for their holiday lights. Find one near you and soak up how much effort they put in! Or just drive around light gazing. I'll be doing both.
5. Volunteer. This is the giving time and there's something beautiful about giving your time for something bigger than you. Head to your local food bank or animal shelter for a few hours.
6. Dare I say it…bake some more. I know, I know, I've said this many times but December brings a whole new batch of flavors to bake with! You can't deny yourself decorating some gingerbread and sugar cookies. And they make great gifts. Much better than the last minute gift you picked up for your coworker; they want the cookies.
7. Send holiday cards. Who else is tired of only getting bills in the mail? Send your family and friends some love the old school way and send out holiday cards.
8. Make a new tradition or keep the old ones. The holidays are a prime time for family traditions. Make the effort to keep your traditions or create a new one.
9. Throw or attend a holiday party. Ugly sweater party anyone?
10. Write down your goals for 2016. Not in a New Year's resolution way — simply to focus your energy and put purpose into what you what to accomplish over the next year.
Cheers to the final month of 2015!
XOXO