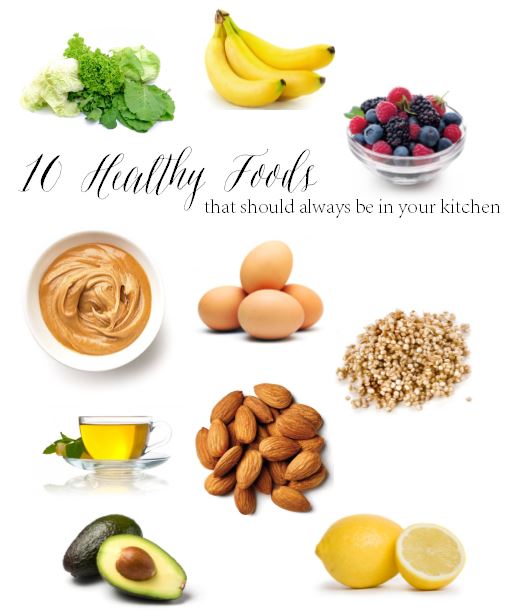 Being healthy isn't always easy, especially with our busy schedules and when the cookies in the office are calling your name. We've all been there… One of the easiest ways to stay committed to your healthy lifestyle is having healthy foods around you — especially foods that are easy to make or just grab and go.
My ten healthy items I always have in my kitchen…
Leafy Greens: Dark green leafy veggies are an excellent source of fiber, vitamins C and calcium. In addition, they act as antioxidants in the body
Bananas: They are chocked full of vitamins and help aid in digestion
Fresh Berries: Fruit is my savior when I'm craving sweets. Instead of going for some candy, cut up some fresh strawberries and indulge in nature's candy
Nut Butter: Peanut butter is packed with protein and potassium as well as fiber which helps digestion
Eggs: They have a myriad of vitamins and nutrients as well as protein which helps you feel fuller, for longer
Quinoa: Not only is quinoa a complete protein, but it also has iron, B-vitamins, and magnesium
Green Tea: It's loaded with antioxidants and natural caffeine, and has been shown to improve brain function, fat loss, and lower the risk of cancer
Almonds: They are known to lower 'bad' cholesterol and the risk of heart attack. They also provide healthy fats and aid in weight loss
Avocado: They are loaded with potassium and healthy fats, and are known to reduce cholesterol
Lemons: In cooking or in water, lemons can lower the risk of stroke, boost your immune system, and help maintain a healthy completion
Ways to incorporate these foods into your diet
Try starting every morning with a cup of green tea or hot water with a lemon slice in there and you will feel more energized throughout the day.
Eat a handful of leafy greens every day with either lunch of dinner.
Snack on berries to get a sugar fix
Sneak some avocado into a smoothie for an extra creamy texture and boost it with extra nutrients, or cook up a few eggs and top it with sliced avocado
 Staying fit and healthy is hard
I know! Trust me I do! But having these foods around can help make it a little easier. And remember, it's about health and wellness, show your body you love it (:
XOXO