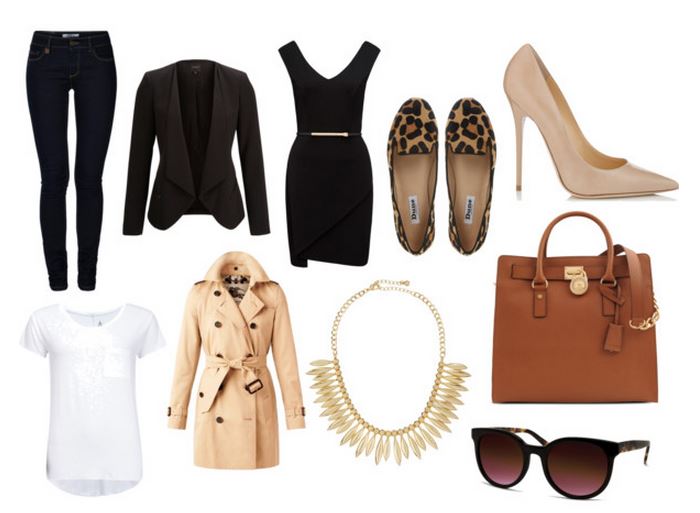 Dark Skinny Jeans: Dark washes are the most flattering wash universally and contrary to popular belief, every body type can wear skinny jeans. It's all about the fit! Dark skinnies are super versatile and can be transitioned from day to night with the switch of a top.
Blazer: We are adults and adults need a blazer, it's just a fact of life. They are the staple to a work wardrobe and you can throw it over a cocktail dress or with skinny jeans and be evening ready.
LBD: Oh the little black dress. Do I even need to explain why every woman needs this item? Work party, LBD. Date night, LBD. Girls night, LBD.
Ballet Flats: Because we all have days that we just really don't want to run around in heels.
Nude Pumps: A lot of people would argue black pumps (which you should invest in also!) but I recommend nude as the top priority because they can work wonders with your legs. Paired with a skirt or dress, nude pumps will make your legs look a million miles long.
Classic White Tee: This is a great transitional piece. Paired with skinnies, a great necklace, and a chic clutch, it can be perfect for a night out. Paired with jean shorts and sandals, you're ready to hit the beach. Paired with trousers and a blazer, you're ready for work.
Trench: Especially in the colder and wetter states (like Oregon), a trench is a necessity. You can never go wrong with a classic wrap trench to keep you warm, dry, and sophisticated.
Statement Necklace: Jewelry can turn a simple outfit into a stunning outfit and a great statement necklace is a beautiful way to do that. Statement necklaces are very on trend right now, so you can get them everywhere. For the most classic look, choose something with more neutral shades that focuses on the hardware.
Leather Bag: This is necessary for a chic woman on the go. A great leather tote can hold everything you need for the day — wallet, laptop, keys, phone, snacks, all of the good stuff. If you've been following along with me , you know I'm obsessed with the Michael Kors Hamilton bag.
Sunglasses: Make your style instantly sophisticated by topping it off with some killer sunnies.